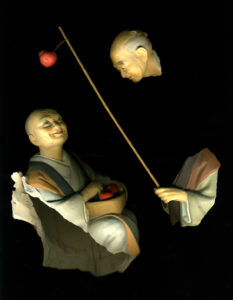 This emotionally rich piece was created from love and tragedy.
My husband, Steve, bought this figurine for his mother—a Japanese couple picking persimmons. She had it for many years until it broke during a move after Steve's death. I took the box of pieces home and found three pieces that told the story: the wife with her basket, the husband's smiling face, and his hand that held his gift. They float in space, three dimensional, hollow, yet full of love.
So, even if you have items that are broken, but are meaningful to you, entrust them to me to create a wonderful space for them to live on.
Save