Your memory, captured in time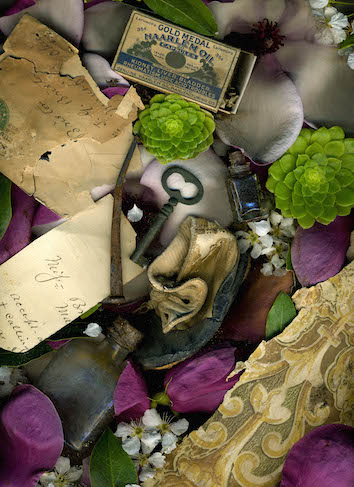 Imagine a unique work of art created just for you or someone you love. Artifacts and ephemera are mixed with botanical and natural elements to create a mesmerizing visual story. (Click any image  to reveal the story of its creation!)
Artist Debbi Swanson Patrick's career as a writer and photographer  led her to a new technology—creating still life compositions using contemporary digital tools that evoke old world sensibilities. Many of her images involve a spiritual connection, perhaps because of her work in yoga and the healing arts.
Debbi begins each commission with a conversation about what you want to convey. With your mementos as the foundation, she adds appropriate items from her vast trove of found objects to create the visual story you want told.
What can Telling Images capture?
Nearly anything you want to share with future generations can be captured in a Telling Images composition.
• Milestones: Celebrate a wedding, a new baby, an award, a graduation, or an anniversary.
• Memorials: Remember people or pets through photos, ephemera and small objects.
• Experiences: Encapsulate military service,  volunteering, sports, vacations, or hobbies.
• Places: Preserve the memory of a home, business, or landmark.
• Heirlooms: Share a family keepsake with others.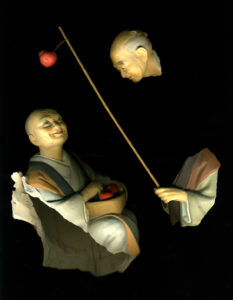 No matter where you live, Debbi can create a remarkable custom composition. Any items sent will be cared for as treasures and returned with the finished image.
Images can be reviewed online or in the Telling Images studio as distance permits. Space and time are not obstacles. Let's discuss which of your items will work best in advance. Most items should be less than 8″ x 10″ in size. Typically, flatter objects are better, but round and odd shapes can work.
Let's talk about your Telling Images masterpiece