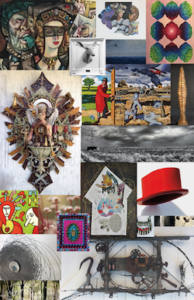 "Anatomy of a Group Show" features 36 artists whose work will be exhibited (and for sale) through September 29, 2018 at McGinty's Gallery at the End of the World (869 E Mariposa St, Altadena, California 91001.)
Artists include Kate Alkarni, Paul August Bruins Slot, Judith Bowman, Susan Braig, Elizabeth Butterfield, Ashoka Chhabra, Melanie Maria Ciccone, Patricia Cunliffe, Pascaline Doucin-Dahlke, Linley Eathorne, Joe Feinblatt, Pepi Feinblatt, Johnny Fox, Michael Haasis, Deb Halberstadt, Rod Holcomb, Lisa Houpt, Cammie Jones, Ildiko Laszlo, Alix McKenna, Amelia Medina, Chris Moore, Robert Moore, Gifford Myers, Steve Ohlrich, Lynne Olson, Paz, Jocelyn Pedersen, Megan Sanchez, Christie Shinn, Debbi Swanson Patrick, Pat Tom, Denise Villagran, Patricia Woodlin, Sean Yang, and Jirayr Zorthian.
For more information about McGinty's, visit the gallery's Facebook Page.